Resources | View all
---
Latest arrivals | View all products
---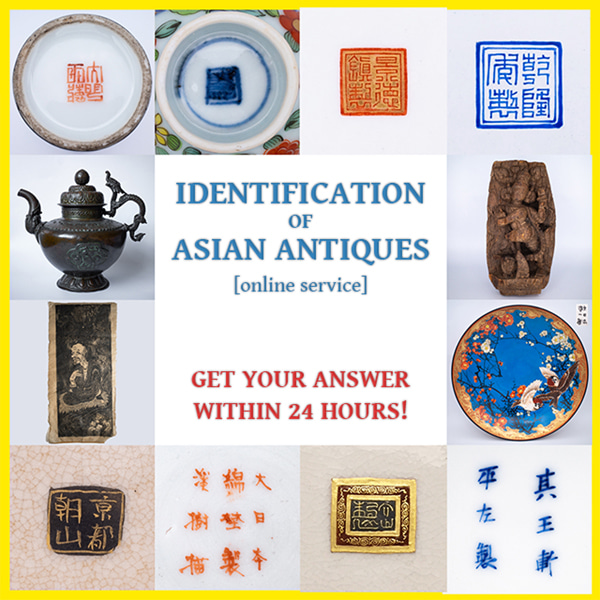 Adrian Mitchell
November 28, 2023.
For just £5, this company provided a prompt and very informative response to my enquiry regarding a valuation of a Japanese vase. Excellent.
Al Hale
November 27, 2023.
Really knowledgable, helpful and efficient. Will use again.
Emma Herrity
November 26, 2023.
Just to say many thanks for such a speedy, and fantastically helpful, reply. Well worth it.
Quick service, even on a Sunday. My curiosity is satisfied! So nice to know a little more about my Japanese tea set. Thank you..
mayazule
November 12, 2023.
Very helpful!
Kayli Brunelle
November 10, 2023.
Great service! Very convenient, fast response. I will definitely be using them in the future.
Terry Morris
November 6, 2023.
Found this company a great help and excellent very fast service and reply would definitely recommend and I'll be using them next time 5☆. Thanks 👍
Gene Hill
November 3, 2023.
Awesome site and team of people for obtaining real information on Chinese art. I'm new to the game and unfortunately found that a piece I bought for a very low price was a replica. But nevertheless still awesome information as other websites are more deceiving/confusing. I would highly recommend Oriental antiques for any questions , super quick to respond, informative and truthful. Could not ask for more!
Carlota Oviedo
November 1, 2023.
Really fast and efficient. Totally worth it
---
---
---
---
Auctions ending soon | Asian Art Curator

We are a member of eBay Partner Network. When you click links on this site and make a purchase, this can result in this site earning a commission.
---
Latest Posts | Visit Blog
---
Buy and sell Asian antiques with confidence

Specialist dealer in Asian works of art from China, Japan, India and other Asian countries. Our ever-changing collection features unique and unusual objects with a story to tell. We offer free online valuations of antiques and identification service for those looking to learn more about their Asian items. Explore our collection of free Asian art resources below or contact us directly to learn more.

Visit our Resources for Dealers and Collectors of Asian Art for a complete list of our reference pages.


Identify Chinese and Japanese porcelain markings

Use our resource pages to identify maker's marks on antique porcelain from China and Japan. Chinese Porcelain Marks Identification Guide lists reign marks and seal marks of Qing and Ming dynasty emperors. Simple guide explains how to read and quickly identify various Chinese porcelain marks. Japanese Porcelain Marks Identification Guide lists many maker's marks found on antique Japanese porcelain and ceramic objects including Arita porcelain, Kutani porcelain, Seto porcelain, Satsuma pottery and others. Each mark also includes links with examples of works by that particular studio or decorator.

If you need further assistance with identification of Asian art and porcelain marks, please visit Identification of Asian Art. Translation of Chinese and Japanese Porcelain Marks


Learn more and find out what's your Asian art worth

Once you've determined the origin of your item, you might want to visit our Asian Art Price Guide that shows recent auction results for Chinese and Japanese antiques and includes prices separated into various categories such as blue and white porcelain, famille rose porcelain, Chinese export silver, Chinese bronzes, Chinese cloisonné, Japanese cloisonné, as well as Satsuma pottery. You can compare your piece with similar examples in our reference archive of high quality photographs and our hand-picked lists featuring some of the finest examples of Asian antiques currently for sale online:

Chinese Blue and White Porcelain
Chinese Famille Rose Porcelain
Chinese and Japanese Cloisonné
Japanese Satsuma Pottery
Japanese Jewellery Boxes and Cabinets

Another great way to learn how to determine whether a piece of Chinese porcelain is genuine is to study our regularly updated list of the most expensive Chinese porcelain recently sold on eBay. Those interested to learn about Japanese art can visit our page with the most expensive Japanese antiques recently sold on eBay.

Do you need further assistance with the valuation of your antique object? Try our free online appraisals and antiques identification service.

If you come across any unknown or foreign terms related to Asian art and antiques, head over to our page titled Terminology of Asian Art – Frequently Used Terms and Their Meaning. Here you will find a simple glossary of commonly used terms that you are likely to come across as a dealer and collector of Asian Art. Included are Chinese and Japanese terms for objects and art techniques, words taken from Buddhism and Daoism, special porcelain and ceramic terminology, as well as some English phrases related to ceramics or Asian Arts in general.


Sell your antiques

If you have any antique objects that you wish to sell, please contact us and send photos, dimensions and a brief description to:
[email protected]

We buy antique Asian art and can arrange collection in Kent, London, Surrey and Sussex. We are interested in genuine antiques and Asian art from China, Japan, India, Tibet and other Asian countries. We also buy oriental furniture and can arrange a collection of furniture from your home.


Buy genuine Asian art

Do you buy Asian art on eBay? Check out our eBay shop with additional exclusive Buy It Now items and regular auctions of Asian antiques. And for even more genuine Chinese and Japanese porcelain and antiques currently for sale on eBay, follow our Asian Art Curator page that features specially selected auctions ending soon. If that's not enough for you, we also have dedicated pages for those looking to buy Chinese porcelain and Japanese antiques specifically.

Explore Chinese Art section of our shop with a variety of Chinese porcelain vases, Qing dynasty textiles, Chinese hardwood furniture and many other authentic Chinese antiques. Our Japanese Art section offers wide selection of decorative items including Japanese porcelain, lacquered cabinets and a range of other antique Japanese works of art. General Asian art section features additional antiques from India, Myanmar (Burma), Thailand and other Oriental countries.

30 Day Money-back Guarantee – if for any reason you're not 100% satisfied with your item, return it within 30 days for a full refund. No questions asked.


We hope that these free Asian art resources will help collectors, students and anyone else with newly found appreciation for Chinese and Japanese art.
– Team Oriental Antiques UK