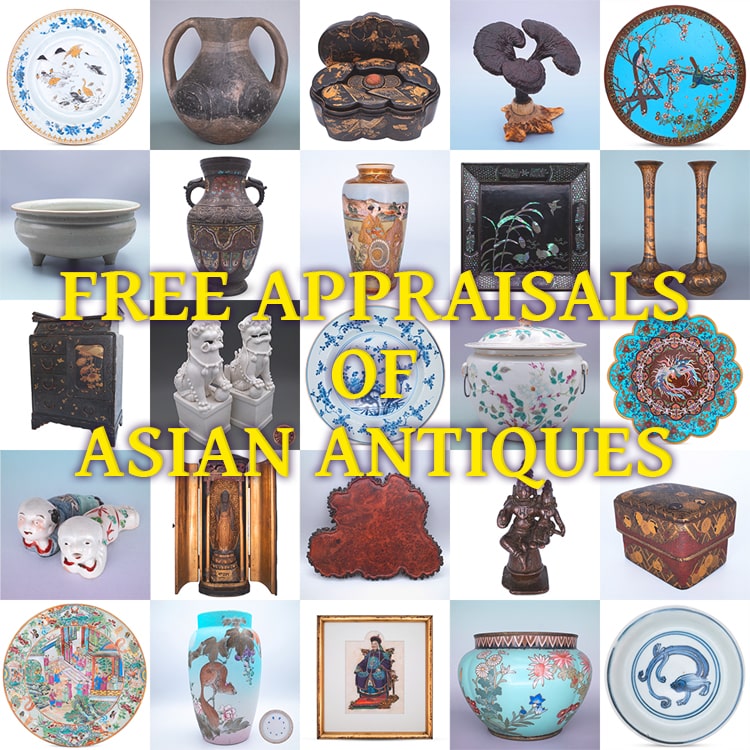 We offer free online valuations of Asian art and antiques. Find out what are your antiques worth – get your free appraisal by contacting us below.
For all other enquiries visit:

FREE APPRAISAL – RECEIVE ESTIMATE ONLY

1. Provide a brief description of your item – include any information that can help with its identification and appraisal such as dimensions, known history and condition. Press Submit.

2. You will receive confirmation email and can send photos of your item as a reply to this email (attach at least 2-3 clear shots of your item).

NOTE: Due to high demand and number of requests that we are dealing with at the moment, it can take up to 2 weeks for us to get to your enquiry. Use our Identification Service if you want to receive your valuation and/or identification within 24 hours.

Please note that in order to prioritize our paying customers, we reserve the right to withdraw or amend the service we provide without notice. (Updated: December 2023)

---
---
Other Resources
---
If you have any antique objects that you wish to sell, please contact us via the form above or send photos of your items to [email protected]

We buy antique Asian art and can arrange collection in Kent, London, Surrey and Sussex. We are interested in genuine antiques and Asian art from China, Japan, India, Tibet and other Asian countries. We also buy oriental furniture and can arrange collection of furniture from your home.
---
Frequently asked questions

Q: I am looking for someone who buys antiques near me. Do you buy antiques and collectibles?
A: Yes. We buy antiques and collectibles directly or can recommend an antique dealer near you if that's more convenient.

Q: Do you offer valuations of antiques? Can you offer advice on where I can sell my antique items?
A: Yes. We offer free appraisals of Asian art and other antiques. We can provide auction estimates and refer you to your local auction house or a dealer.

Q: I own a large collection of antiques that I would like to sell. Are you able to visit me to appraise or purchase some of it?
A: Yes. We can visit you and appraise your collection in person. We buy antiques in Kent, London, Surrey and Sussex and can arrange collection of your items. Contact us for more details.

Q: I would like to sell my antique oriental furniture. Can you come and collect furniture from my home?
A: Yes. We buy antique Asian and oriental furniture and can arrange collection within Kent, London, Surrey and Sussex.

Q: I own an old item of unknown age and origin. Can you identify unknown antique items?
A: Yes. In most cases we can provide information about the country of origin and approximate age of your antiques, as well as their value.

Q: I urgently need to know value of my antiques. How long will it take you to value my collection of antiques and collectables?
A: We try to respond to all submissions within 48 hours.